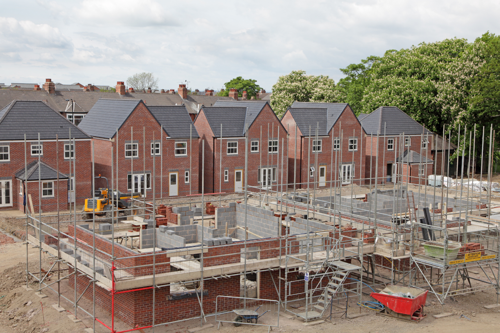 The UK construction industry is booming in 2022. Read on to find out about the industry and what it has to offer you.
The construction industry makes up a massive percentage of the UK job market, employing
3.1 million people
or 9 per cent of the workforce. It's also one of the few industries that's continuously growing despite the pandemic, by a predicted
3.9 per cent
in 2022. There are common conceptions that the industry is made up of manual labourers, however there's actually a wide range of construction jobs that attracts a broad spectrum of professionals.
So, what does this industry have to offer you?
What is the best job in construction for you?
There are lots of construction careers to choose from which require different skills. It's best to think about your key strengths and tailor your construction career accordingly. Below are some popular construction jobs that might be suitable for you.
Architects are responsible for planning, developing, and implementing building designs. Their role includes making reports and project proposals, evaluating the environmental impact of a building, and estimating costs. Architects are often creative people with a keen attention to detail and design skills. To be an architect you either need a degree recognised by the
Architects Registration Board
and a year of practical work experience or you could apply for an architect
degree apprenticeship
.
Construction site managers are responsible for overseeing and directing construction projects from start to finish, and have a deep insight into building projects. They oversee all onsite and offsite constructions and monitor safety regulations. Site managers need to have excellent communication skills and knowledge of building methods and regulations. Since they're in charge of building sites, they also need to be comfortable with leading a team. To be a construction site manager you'll need to have a
relevant degree
in a subject such as construction management, building management, or surveying and have previous experience in a construction career, for example as an estimator, building technician, surveyor, or site supervisor.
Quantity surveyors estimate the costs of building projects. They work alongside builders and architects to assist in design, construction, demolition, refurbishment, and maintenance. The key skills of a surveyor include strong numerical skills, attention to detail, and the ability to negotiate. If this matches your skillset, you'll need to acquire a degree in quantity surveying or commercial management accredited by the
Royal Institution of Chartered Surveyors (RICS)
or alternatively a undergraduate degree and a
RICS accredited postgraduate conversion course.
What is the most common construction job?
Is construction a good job?
There are lots of benefits to a job in construction which makes it an excellent industry to work in. Workers benefit from job security, since there's always demand for new buildings or repairs. A construction career also changes from day-to-day, so there's always something new to learn—you could be doing anything from repairing a road or estimating building costs depending on your job role.
How do I know what construction career is good for me?
Before jumping into a construction role it's important to do your research and find a job that matches your skills and interests. Here's how you can find your dream construction career:
Take career assessments. To match your skills to a job, check out a career assessment. This is a valuable tool to help you narrow down your dream career search. Take a look at this construction career assessment
List your options. Finding your chosen career can feel overwhelming, so start listing all your possible options, focusing on your interests and hobbies and finding a job that best matches you.
Ask an industry professional. Sometimes the best way to determine your dream career is to talk to someone who's already in the industry. You'll get valuable insights into the true nature of the career you're interested in.
So, are you considering a career in construction? If it sounds appealing to you then it's a good idea to contact a recruitment agency that specialises in the construction industry.
Are you interested in applying for a job in construction?
SSA Recruitment Group is a highly dedicated firm of recruitment and search consultants in the United Kingdom. We connect our clients to the best talent, and have placed thousands of professionals in their dream construction jobs. Take a look at our available career opportunities
here.