9 Jobs You Can Do With a Civil Engineering Degree
Date: 18 May 2022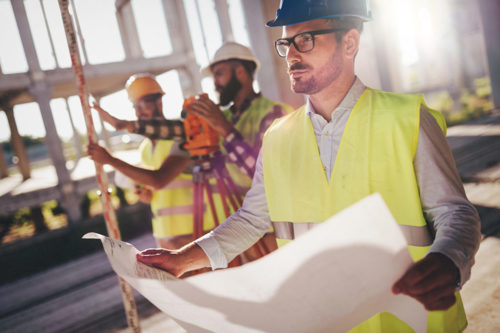 Few enterprises in the world provide as much value as civil engineering. It is responsible for much of the quality of life that we enjoy in the modern world and for defining what it even means to live in a modern and developed society. Utility project construction alone is worth more than €541 million every year just in Ireland!
There is no denying how much society depends on the work of those who earn a civil engineering degree. However, not everybody interested in civil engineering is sure that they should go into it. In particular, they are worried about their job prospects. What jobs can a civil engineer do?
Fortunately, there are many job opportunities available for people who get civil engineering degrees. Read on to learn all about some of the most interesting jobs you can get with your civil engineering degree!
1. Engineering Project Manager
The position of engineering project manager requires a civil engineering diploma or degree. People who work as engineering project managers make anywhere between €55,000 and €145,000 each year.
As for what they do, engineering project managers assess potential projects and plan a way to complete them successfully. On top of that, they propose projects that they recommend. That means that they sometimes have to use their own judgment to decide what civil engineering projects they think society should be directing its resources toward.
They also have to maintain financial records and carefully conform to safety regulations as part of their work. That makes an engineering project manager a good option for people who want a position that combines social and technical skills.
2. Senior Civil Engineer
The civil engineering job outlook is good. It includes opportunities for upwards advancement. Once you have some experience in the industry, you might eventually become a senior civil engineer.
Senior civil engineer jobs make anywhere between €53,000 and €120,000 every year. In order to eventually become a senior civil engineer, you will need a regular civil engineering degree.
Senior civil engineers also plan and manage projects. However, they manage some of the industry's most sensitive and important projects. That can include essential infrastructures like highways, bridges, and buildings.
3. Engineering Manager
Engineering managers require a civil engineering degree. They make between €55,000 and €145,000 per year.
Engineering managers work together as part of a project or firm. They often lead or help manage the engineering department.
4. Civil Engineering
On top of other positions in the field, there is also a job that is just called "civil engineer" which is a top choice for graduates. It requires a civil engineering degree, and civil engineers often earn between €53,000 and €120,000 per year. They also work on important projects like bridges, highways, and more.
This is a great place to start for graduate civil engineering jobs.
5. Architect
Not everybody knows this, but architects are actually considered to have civil engineering jobs. To become an architect, you often need post-secondary education. A bachelor's degree in civil engineering is a great way to prepare.
Many people are interested in architecture because they consider it to be one of the more artistic jobs in civil engineering. Architects make anywhere between €42,000 and €95,000 each year.
That can make it a good choice for people who want to feel like their work has a strong creative element. Architects assess locations and then design buildings that suit those locations for the construction industry to build.
6. Engineering Inspector
To become an engineering inspector, you will need a civil engineering degree. You can earn anywhere between €47,000 and €115,000 per year.
Engineering inspectors do not plan or build things. Instead, they inspect the work done by others. They also inspect equipment, including vehicles and industrial instruments.
They make sure that the civil engineering industry continues to comply with government standards. They play an important role in making sure that civil engineering does not cut corners or put people at risk.
7. Civil Engineering Drafter
If you are looking at entry-level civil engineering jobs, you might consider civil engineering drafter. It requires a civil engineering degree, and the position often earns between €35,000 and €72,000 each year.
Civil engineering drafters prepare designs and other documents to support an engineering project. In most cases, they do not design an entire project themselves. Rather they help flesh out the details of plans made by others.
8. Civil Engineering Technologist
Civil engineering technologist positions require a civil engineering degree and make between €35,000 and €68,000 each year. They are somewhat similar to civil engineering drafters.
They help develop and flesh out designs and drawings that others have created. They also work to estimate the cost of carrying out plans. Technologists survey locations and provide their assessment of their suitability for different types of plans.
9. Land Surveyor
You'll need a civil engineering degree to become a land surveyor. Land surveyors have some of the widest-ranging salaries. They can earn as little as €22,000 each year and as much as €102,000 each year.
They spend most of their time visiting plots of land and assessing them. That can make land surveyor a great position for people interested in travelling and visiting various locations.
Land surveyors figure out where the boundaries between property should go. They also help map out properties and the topography of the land. All of this information is essential for other people with civil engineering positions to make project plants suitable for the land.
Understand the Jobs That Await You With a Civil Engineering Degree 
We hope learning about employment opportunities that come with a civil engineering degree has been helpful for you. Many people know that they're interested in civil engineering, but they hesitate because they are unsure about their job prospects. Better understanding the options available to you can help you decide if you should pursue a civil engineering degree.
 To learn more about civil engineering or to speak with experts in employment in civil engineering, feel free to reach out and get in touch with us here to discuss any open vacancies that we have in the civil engineering industry in Ireland.
Starting Your Career In Civil Engineering in Ireland
For more information on starting your career in engineering, or to find out what jobs you can get with a civil engineering degree, check out this live seminar with Engineers Ireland which was recorded in July 2021. Hear from Gregory Allard, Graduate Civil Structural Engineer, who explains the skillsets needed to succeed in civil engineering.