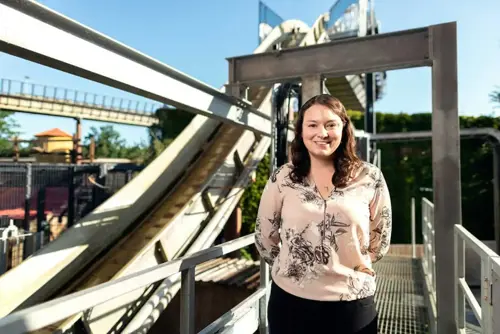 Civil engineering is a vital and ever-evolving industry in the United Kingdom. It plays a crucial role in shaping the country's infrastructure and improving the quality of life for its residents.
Have you ever wondered about the
opportunities available
in this field? You've come to the right place! This comprehensive guide will dive into the world of civil engineering jobs in the UK. We'll explore the demand, variety, typical salaries, types, and qualifications needed.
We'll also address some common questions to help you decide whether civil engineering is the right career choice for you.
So, let's embark on this exciting journey and discover the fascinating world of civil engineering in the UK. Keep reading as we get right into it!
Demand for Civil Engineering Jobs in the UK
The demand for civil engineering jobs in the UK is high. This is thanks to a continuous need for infrastructure improvements, new projects, and maintenance of existing structures.
The UK government has committed to investing in large-scale infrastructure projects. This leads to a strong demand for skilled civil engineers.
As the population grows and urban areas expand, the need increases for things like;
Waste Management Services
This demand creates a stable market for civil engineering careers.
The Variety of Civil Engineering Jobs
Civil engineering jobs are diverse and cover a broad range of sectors from transportation and water resources to environmental and structural engineering. This variety offers opportunities to work on different types of projects in various environments.
Here are a few examples of civil engineering specialties:
Transportation Engineering
This specialty involves designing, constructing, and maintaining transportation systems such as roads, bridges, airports, and railways. Transportation engineers must consider factors like traffic flow, safety, and environmental impact.
Water Resources Engineering
Water resources engineers deal with the management and distribution of water resources, including:
They must ensure that water resources are used sustainably and efficiently. They must also aim to minimise the impact of floods and other natural disasters.
Environmental Engineering
Environmental engineers aim to minimise the environmental impact of engineering projects by focusing on;
They work to ensure that projects are sustainable and minimise their impact on the environment.
Geotechnical Engineering
Geotechnical engineers deal with the design and construction of structures that rely on the properties of soil and rock, like building foundations and retaining walls.
They also assess the risk of natural hazards like landslides and earthquakes.
Structural Engineering
Structural engineers are responsible for the design and analysis of structures like;
They must ensure they can withstand external forces and remain stable. They must consider factors like wind, earthquakes, and heavy loads in their work.
Construction Engineering
Construction engineers manage construction projects from start to finish. They oversee the planning, design, and construction phases. They work with architects, contractors, and other professionals to ensure that projects are completed on time and within budget.
Materials Engineering
Materials engineers develop and test new materials for use in construction projects, such as concrete, steel, and asphalt.
They must consider factors like durability, strength, and environmental impact in their work.
Typical Civil Engineering Salaries in the UK
Civil engineering salaries in the UK can vary greatly depending on experience, location, and the specific sector within the industry.
According to the
National Careers Service
, the average starting salary for a graduate civil engineer in the UK is between £24,000 and £28,000 per year. With experience, this can increase to between £30,000 and £45,000.
Highly experienced civil engineers, especially those in senior positions, can earn over £70,000 annually. Engineers working on large-scale projects or in regions with high demand may also command higher salaries.
Types of Civil Engineering Jobs
There are various types of civil engineering jobs available in the UK, catering to a number of interests and skill sets. Some common job roles include:
Design Engineer
A design engineer is responsible for creating and reviewing designs, blueprints, and specifications for civil engineering projects.
They must have strong technical skills and be familiar with computer-aided design (CAD) software.
Site Engineer
A site engineer oversees construction projects on-site. They ensure that work is carried out according to plans and regulations. They must have strong communication skills and be able to work well under pressure.
Project Manager
A project manager is responsible for managing the entire project lifecycle. They oversee everything from planning and design to construction and maintenance.
They must have strong leadership skills and be able to manage budgets and timelines effectively.
Geotechnical Engineer
A geotechnical engineer specialises in analysing soil, rock, and groundwater conditions. They are experts in determining the suitability of construction sites.
They must have a strong understanding of geology. They should also be able to use specialised software to analyse data.
Highways Engineer
A highways engineer focuses on the design, construction, and maintenance of roads and highways. They must be familiar with regulations and standards related to transportation infrastructure. They should also have a strong understanding of traffic flow and safety.
Coastal Engineer
A coastal engineer works on projects related to coastal areas, such as;
They must have a strong understanding of oceanography. They should also be able to design structures that can withstand the forces of the sea.
Qualifications Needed for Civil Engineering Jobs
To enter the field of civil engineering, you will typically need a degree in civil engineering. However, a degree in a related discipline could also be enough. Some of the top universities offering civil engineering degrees in the UK include:
University of Southampton
Obtaining a professional qualification can also improve your career prospects. The Institution of Civil Engineers (ICE) offers a range of professional qualifications, such as;
Chartered Engineer (CEng)
Incorporated Engineer (IEng)
Engineering Technician (EngTech)
These qualifications demonstrate your competence and commitment to the engineering profession.
To gain hands-on experience, consider taking part in internships or work placements. This experience can help you build a network of contacts and develop a better understanding of the industry.
Is Civil Engineering a Good Industry to Work in?
Civil engineering is an exciting and rewarding industry to work in. Civil engineers play a crucial role in shaping the built environment and improving people's lives. They do this by designing and constructing infrastructure that meets societal needs.
The industry also offers excellent job security. Demand for civil engineers remains strong in the UK. With diverse job roles and sectors, civil engineers can explore various career paths. They'll also find many opportunities for growth.
Looking For Civil Engineering Jobs in the UK?
Civil engineering jobs in the UK are in high demand and offer diverse opportunities for those interested in this field. With competitive salaries and a variety of sectors to specialise in, civil engineering is a rewarding and secure career choice.
If you're just starting out, focus on gaining qualifications and experience. In time, you can succeed in this industry and contribute to the growth and development of the UK's infrastructure.
Interested in learning more about civil engineering jobs in the UK?
Get in touch
with us today, we'd love to help!