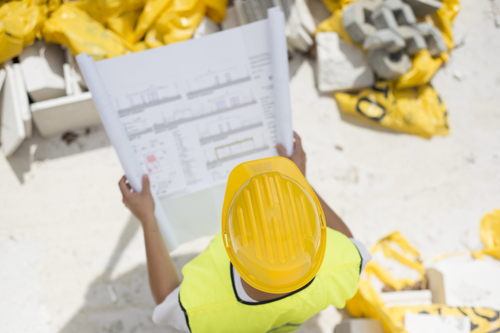 The UK construction industry has continued its strong growth in 2022, with output already 
7.4%
higher than 2021. This figure is only set to rise as the year continues, making it the perfect time to consider a job in construction or for industry professionals to climb the ladder.
Looking to step up a level in your construction career? We've got you covered! In this article, you'll learn everything you need to know before you start applying for construction project manager jobs.
What is the role of a project manager in construction?
The job role is exactly what it says on the tin: project management! As a project manager, you'll be responsible for the overall success of a construction project. You'll essentially oversee the planning and delivery, making sure that everything is running smoothly and according to plan.
Responsibilities included in construction project manager jobs:
Planning and execution of projects.
Monitoring and controlling projects.
Team management and task delegation.
Material and equipment checks.
Client communication and support.
You'll be in charge of most, if not all, project aspects.
Your working hours will be split between the office and construction site, while the tasks you'll handle will no doubt differ from project to project. Interested? Keep reading to find out everything you need to pursue this career!
What qualifications do I need to become a project manager in construction?
To become a project manager, you'll need to have knowledge of the industry. This could be through a foundation degree, a higher national diploma, or a
degree
in construction management, building studies, building engineering, or another related field.
Alternatively, you can join the industry through an
apprenticeship
. Once your studies are complete, the next step is to acquire the essential skills needed for construction project manager jobs.
Five essential skills you'll need to possess:
Some knowledge of building and construction.
Excellent communication skills.
Outstanding time and workload management skills.
Computer awareness and strong knowledge of mainstream software packages.
It's important to remember that you don't necessarily need to come from a construction background. A lot of project managers join the role with transferable skills, however, having industry knowledge and experience will help to significantly bolster your application.
What is the difference between a project manager and a construction manager?
You may be wondering about the differences between your role as a project manager and that of a construction manager. The answer is simple: scope of responsibilities, authority level, and overall focus.
A construction manager will oversee on-site operations, like construction budget, personnel, and materials. They're only involved in the construction phase of a project. A project manager, however, will oversee all phases, including marketing and administrative needs. You'll see the project through to completion, beginning to end. Although a construction background is ideal, it's not always necessary.
As a project manager, you don't need to have an extensive background in construction, though it certainly would be of benefit. Any previous experience, from similar project management roles, regardless of industry, is likely to include transferable skills.
One noticeable difference between the roles of a project manager and construction manager is salary. Based on the UK average, a construction manager can expect to earn
£45,056
. For project managers in construction, meanwhile, this figure increases to
£53,600
.
Now that you know everything about project management in construction, let's explore how to start a career in this profession.
How do you start a career in construction project management?
You're now ready to start looking for your dream job. Always remember to double-check your qualifications, skillset, and work experience. Before you start, consider the following questions:
Is this role compatible with your needs and lifestyle?
Is the role in a place you can travel to?
Does the salary meet your expectations?
Most importantly, does the position motivate and excite you?
Now that you know what to do, where do you even begin to look? The answer is not Google!
You can find open positions for construction project manager jobs on our website.
SSA Recruitment Group is highly dedicated to matching professionals with their dream roles within the construction and civil engineering industry. Check out all our available positions in the UK
here
!