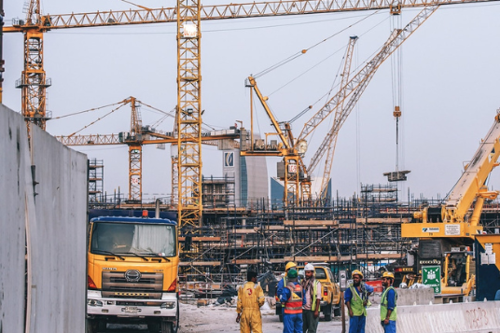 Did you know that the construction market is worth 
over £150 billion
in the United Kingdom?
While many may think you can only be a construction worker, the construction industry offers a wide range of career possibilities. These include artisan trades such as being a painter or carpenter all the way up to professional architects and engineers.
This is why it's important to spend some time looking through the industry to see what construction jobs are available.
If you're looking for what type of construction jobs are there in the UK, you're in the right place. Here's a list of the different types of careers you can pursue in the construction industry.
Quantity Surveyors
The role of a quantity surveyor is essential during the planning stages of a construction project. These construction professionals are tasked with doing detailed calculations to determine the quantity of materials needed to complete the project.
Quantity surveyors can make anything from £35,000 per year all the way to £60,000. This is because quantity surveyors often work for a single construction company but manage a number of construction projects at the same time.
Brick Mason
Brick masons are skilled construction workers that specialise in building and repairing
brickwork and stone structures
. This can include fireplaces, pavements, patios, and walls. In the United Kingdom, these artisans are typically called in to work on facades.
Despite being an artisan trade, brick masons can earn an average of £30,306 per year. While the work brick masons do can be quite standard, there is room for creativity as well. This is evident in residential work as brick masons are often called to build unique fireplaces and patios.
Contracts Manager
Contract managers are responsible for the planning and organising of vital construction contracts. This process is incredibly important to keep construction going and on time. These contracts surround the procurement of both raw materials and services.
Contract managers can make anything between £55,000 and £60,000 per year. This role is fairly administrative, meaning that contract managers will need to have good people and communication skills to do their job well.
Lift Engineer
Lift engineers and technicians are professionals that install and maintain lifts. These professionals also install chair lifts and moving walkways. While you may think lift engineers install elevators, they are also responsible for installing the construction lifts needed to complete the build.
These professionals are qualified engineers but can become qualified through both a university degree and an apprenticeship. Life engineers make an average of £30,597 per year in the UK.
Site Engineer
The role of a site engineer is vast. These industry experts are tasked with the planning and coordination of the technical aspects of construction. They are also responsible for fixing any issues that may arise during construction.
Site engineers in the United Kingdom are some of the highest-paid construction workers. These professionals can take home anything between £40,000 and £70,000 per year. This salary can range depending on personal experience and the seniority of the position itself. Junior engineers will earn a lot less than project managers.
Construction Manager
If you have good management skills, you should consider a career as a
construction manager
. These construction professionals are responsible for overseeing an entire construction project from beginning to end.
With an average salary of around £52,944 per year, construction managers are some of the highest earners in the industry. These professionals usually have a university degree in project management, construction science, or even a technical degree like engineering.
Health and Safety Advisor
Health and safety advisors play an important role on a construction site. These industry professionals are tasked with evaluating the risk on site and coming up with ways to reduce this risk. This is done to ensure safety for everyone working on the site.
Health and safety officers can earn anywhere from £30,000 to £50,000 a year in the United Kingdom. This salary will range depending on the construction company and the details of the project itself. Safety advisors working in London tend to earn more than if they were to work in other parts of the country.
HVAC Technician
HVAC technicians manage the heating, ventilation, and air conditioning of a building. These technicians are valuable as they are responsible for both installing and maintaining the system.
HVAC technicians also manage the electrical components as well. This means that these artisans connect and wire the systems themselves. These technicians make an average of £34,995 per year. You can become a technician through an apprenticeship program or through
specialist certifications
.
Ironworker
Ironworkers work with all the metals on a construction site. Due to most modern buildings relying on steel, ironworkers are in high demand. These artisans can make an average of £35,467 per year.
They often work with cranes to lift and position large pieces of metal into place. These professionals also work to reinforce older buildings. This makes the field much wider than many may think.
Carpenter
Construction companies hire carpenters for all the woodwork in and around construction sites. These artisans are responsible for designing and building wooden structures. These include stairways, door frames, and floors.
Carpenters make an average of £39,485 per year in the UK. This is notable since you don't need specific qualifications to be a carpenter. Most construction employers will require you to prove competency through previous work experience.
Looking For Construction Jobs?
If you have ever asked yourself: Are there construction jobs near me? The answer is yes. There are several different career options available for you. With the right agency, you will be able to land some of the best construction jobs in the United Kingdom.
If you're looking to start a career in the construction industry, feel free to visit our website for the
latest vacancies
. If you still have any questions, our team is ready to help you through the entire application process.