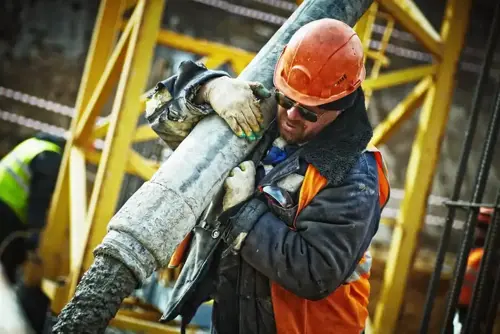 Did you know that UK construction employs around 
3.1 million people
? Plus, almost one in five of every small to medium-sized business in the UK offers construction jobs.
Construction is a field that will never stop growing and will never run out of jobs. As a society, we are constantly growing, updating, and changing. That all needs maintenance and capable hands to see the projects come to life.
Is construction a viable job opportunity? Do construction jobs pay well, and what is the average salary for construction jobs? Read on to learn more.
What Is the National Average?
As it stands, the average starting salary of construction jobs in the UK is around £19,600 per year, but this does factor in trainee construction workers learning through internships or apprenticeships. Someone with more work experience could expect to earn around £28,300 per year, which is an average hourly rate of £10.30.
While this is a little lower than the UK's overall national salary (by about 4%), there is a lot of potential in construction to earn above and beyond the average.
Working with a recruitment company
could even boost your chances of finding well-paying jobs.
How Work Experience Affects Your Salary
Typically, a construction worker with fewer than three years of experience can expect to earn the national average. Someone in their mid-career, however, can expect to earn around £27,100, while the average salary for those with 10-20 years is about £33,700.
If you gain over 20 years of experience, then you could expect to earn around £35,600. However, this does not take into account career progression and the potential for promotions, which will get you far more than the national average. What these numbers represent is the sliding scale in the same position.
Some jobs in construction have overall better averages than others. Some workers will earn far more than the national average, while others may earn less. It all depends on your level of expertise, the area you're looking to work in, and what the cost of living is in your region.
Best Paying Graduate Construction Jobs
While graduate jobs typically require you to have a degree to start your career, this is not always the case. You could earn your qualifications through an apprenticeship or trainee program.
Your options are plentiful, and getting into the field of your choice early on means your career prospects can significantly expand. These are just a few examples of the sorts of
graduate jobs
and construction salaries you could find.
Site Administrator
Working as a site administrator means you'll be primarily performing admin work like data entry, budgeting, and ensuring that all the necessary materials make it to the site.
You'll likely need a bachelor's degree and around 2-5 years of experience, but you could expect to earn anywhere between £25,000 to £30,000 a year.
Trainee/Graduate Health & Safety Advisor
The best part about entering the field as a trainee health and safety advisor is that you don't need any prior experience, since most traineeships will provide full upskilling, though most will require you to have a NEBOSH certificate.
Your principal duties would be assisting the lead health and safety advisor with admin, inductions, and risk assessments. A position like this could get you anywhere from £25,000 to £30,000 a year.
Assistant/Graduate Quantity Surveyor
While there may be a preferred level of experience in estimating, you should be fine with a bachelor's degree. You would schedule pricing, work on quotes from subcontractors, meet tender submission deadlines, and measure quantities from drawings.
As an assistant or graduate quantity surveyor, you could look at earning anything from £25,000 to £35,000 per year.
Mid-Level Jobs
You could expect to aim for mid-level jobs and positions after you've gained about 2-4 years of experience in your chosen field. It's impressive what experience can do. Sometimes, your salary could double, so it's well worth investing in the right training and upskilling yourself as needed.
Health and Safety Advisor
Those in charge of health and safety develop policies that ensure people stay safe on site. They also investigate and report incidents and give guidance regarding legal compliance.
You would also lead health-related projects like training and workshops. There is the potential for a role like this to hit earnings of £55,000 per year.
Estimator
Estimators analyse plans, documents related to quantities and other project information in order to estimate the costs of the construction order. As an estimator, you would research, source, and negotiate quotes from subcontractors and suppliers.
Estimators earn roughly £50,000 to £65,000 per year and can lead into roles like commercial managers.
Construction Manager
As a construction manager, you would be the backbone of a construction project. Your duties would not only be ensuring the safe day to day running of a project, but managing timelines and budgets, and dealing with delays or disruptions.
You may earn on a day rate, depending on your role, and this could be anything from £375 to £400 per day. You could also have a full-time, permanent role. Here, it's possible to earn anything from 55,000 to 60,000, area dependent.
High Paying Construction Management Jobs
When you look at moving up in the world of construction, an entire set of new doors opens up for you. You could work your way into managerial roles, like
project managers
and commercial managers, especially if you went for additional training. Jobs like this can pay anywhere up to £100,000 a year.
You could also look into moving into design or site engineer roles, which would make you responsible for overseeing the development and success of the projects. These are especially ideal if you're someone with a background in engineering and construction.
Looking For Work in Construction?
As you can see, there is ample work opportunity in UK construction. There is a wealth of construction jobs out there, above and beyond what is on this list. The salaries are competitive, and the opportunities are out there. All you need is good training and capable hands.
If you're at a point where you're looking at getting a construction job, why not work with us? We specialise in placing people in construction jobs all over the UK.
Check out our vacancies
today.